A question we frequently get is how to put up wall decals to complement different styles of home décor. As much as we love our products, we totally get it. Figuring out how to incorporate our pieces into your living space can be intimidating. This is especially true if you're not used to having patterns or color on your walls.
Our wall decals are meant to stand out while still fitting in with many different styles of décor. So if you're struggling to decide where to put your Cedrick Wall Stripes or Bobbles Mandala, here's a guide on how to put up wall decals in your home.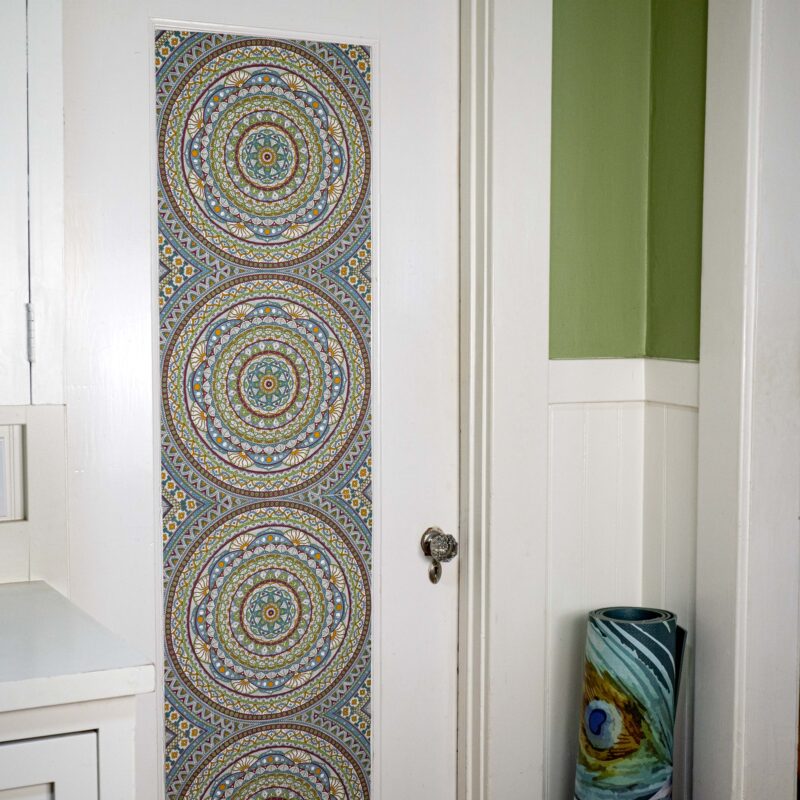 Dress Up Your Door
If you're new to decorating with stick-on wall décor, start by putting a decal on your door. Many door styles offer a perfect amount of space for a mandala or wall strip, like the Pastel Mandala pictured here. Plus, they're usually plain white so why not add a bit of personality!
If you're looking to transform your dorm aesthetic, use one of our decals to add some pizazz to a hallway full of boring blank doors. And an added bonus — it'll make it easier for friends to find your room.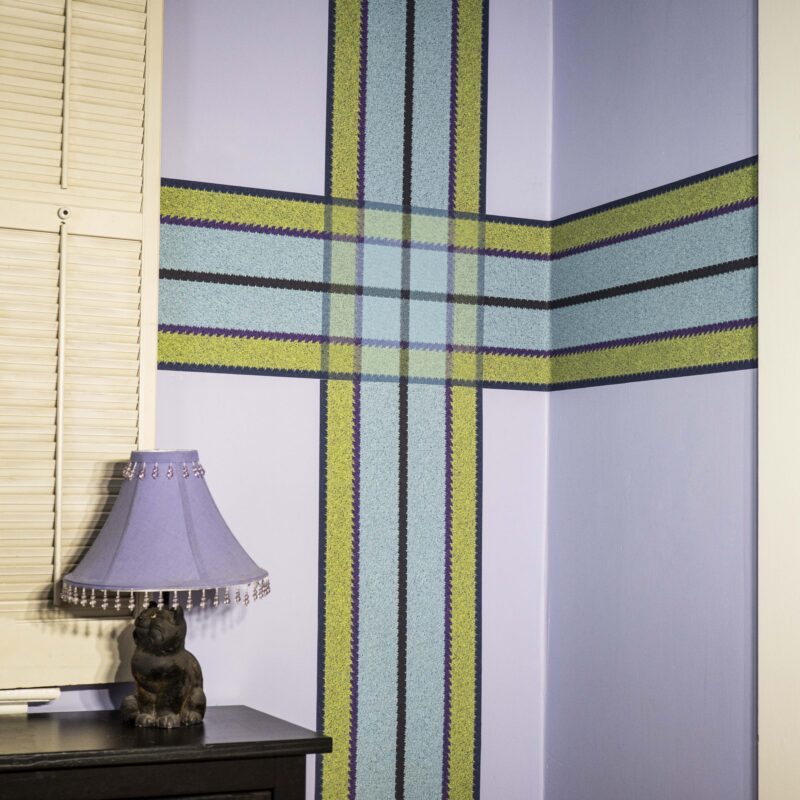 Spruce up a Small Wall
If you decorating small spaces, learning how to make a room look bigger can truly transform it. We kept that in mind when designing our wall stripe collection. These plaids stretch both horizontally and vertically to create the illusion of higher ceilings.
If you live in a small space, most of the area in your rooms are probably taken up by furniture. This creates a lot of small wall sections that are hard to decorate without making the room look cluttered. To address these small wall spaces you can decorate them with decals that lengthen, like our wall stripes.
If you want to design your room to make it look more spacious, start by applying a vertical stripe decal. Start at the top of a dresser or countertop, giving the illusion that it continues downward to the floor. Then align this stripe vertically towards the ceiling. Align the horizontal plaid stripe from the edge of a wall, door frame, or window like we've done in this picture of the Georgie Wall Stripes. Using this optical trick is a great solution for how to make a room look taller and wider. These stripes can actually make your room look like it's been stretched out.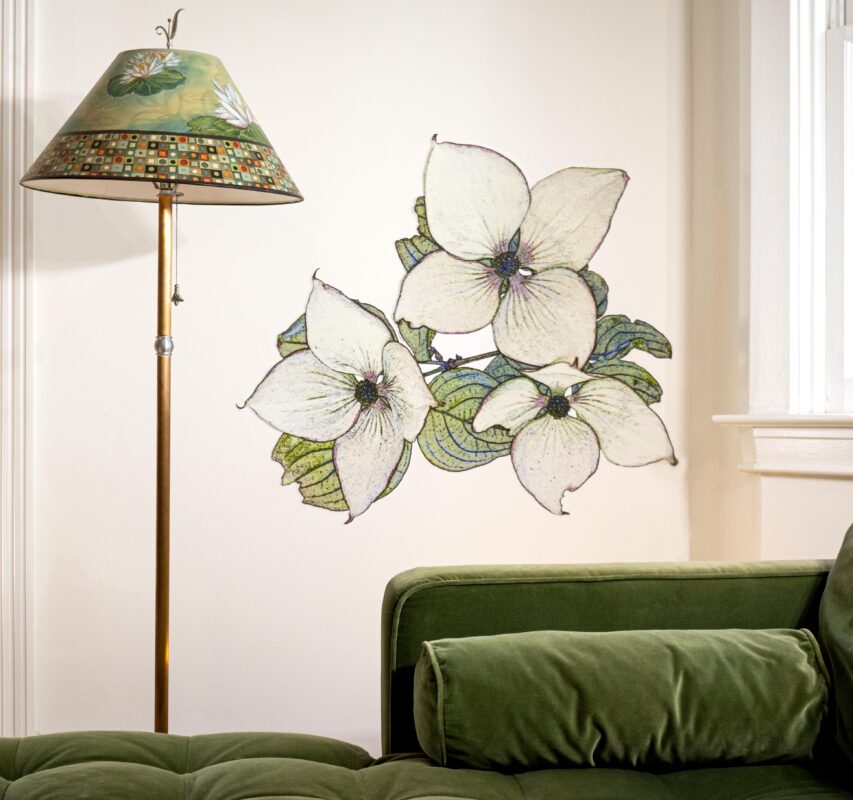 Design Your Room Around Color
If you're relatively new to interior decoration, one of the easiest room decorating tips we can give you is to be willing to use and combine colors. Start by choosing an art piece that has similar hues and design elements to the furniture that's already in the space. We put up one of our newest pieces, the Spring Blooms Wall Decal, in our living room because it brings out the greens of our emerald couch and connects with the floral patterns of the lampshade.
While it's good to select décor accents like our wall decals that complement pieces already in the room, you don't have to match every color completely. You can successfully introduce a new, refreshing color to a space. Our Spring Blooms Wall Decal has delicate pinks and lavender, which are on the opposite side of the color wheel from green. These opposing yet complementary colors bring a pleasing balance to the room.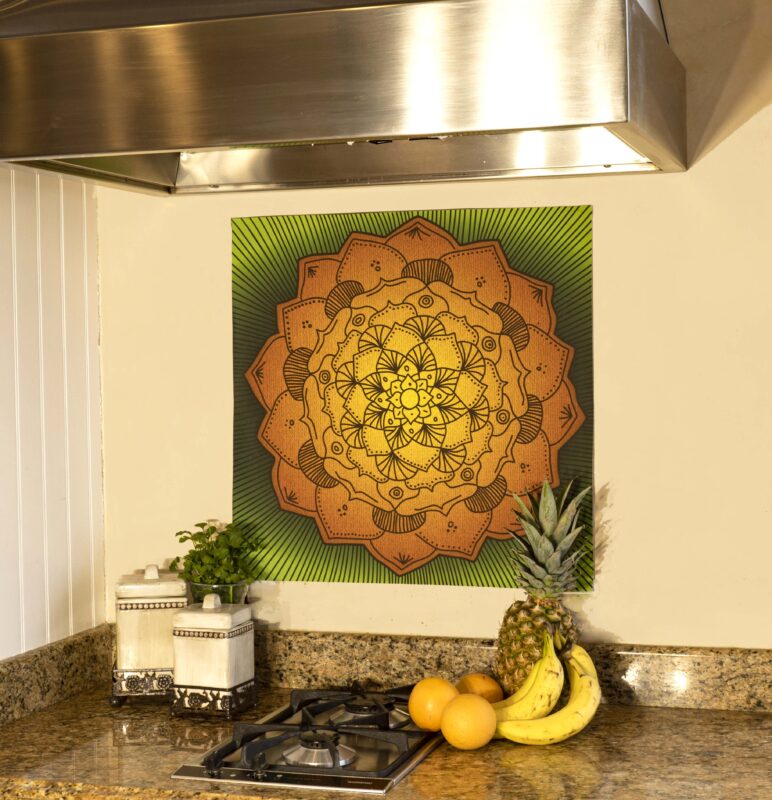 Brighten Up Your Kitchen
A lot of people do not decorate their cooking spaces with art because they're afraid of it getting ruined with oil or grease. Our stick-on wall decals are a great solution for this and can stand up to the challenge. If you clean the wall thoroughly before you apply it, one of our decals will hold up to most kitchen environments and you can wipe splatters off with a damp cloth.
Staccarto has a lot of small pieces that can fit into cramped kitchen corners and pantries, like this vibrant Mandaluz Mandala. In this picture, we used this decal as a backsplash behind a kitchen workspace, so there is something fun to look at while someone is mixing ingredients and creating recipes.
We have a variety of decals to go with every type of home interior design. If your kitchen has a more rustic room style, choose pieces with an earthy warm feel like the Flor de Gaucha Mandala. If you're drawn to neutral tones, the black and white Mandala Palabras would make a great décor accent for your cooking space. You can even stick one of our decals to your fridge to brighten up a more functional but neglected area of your house.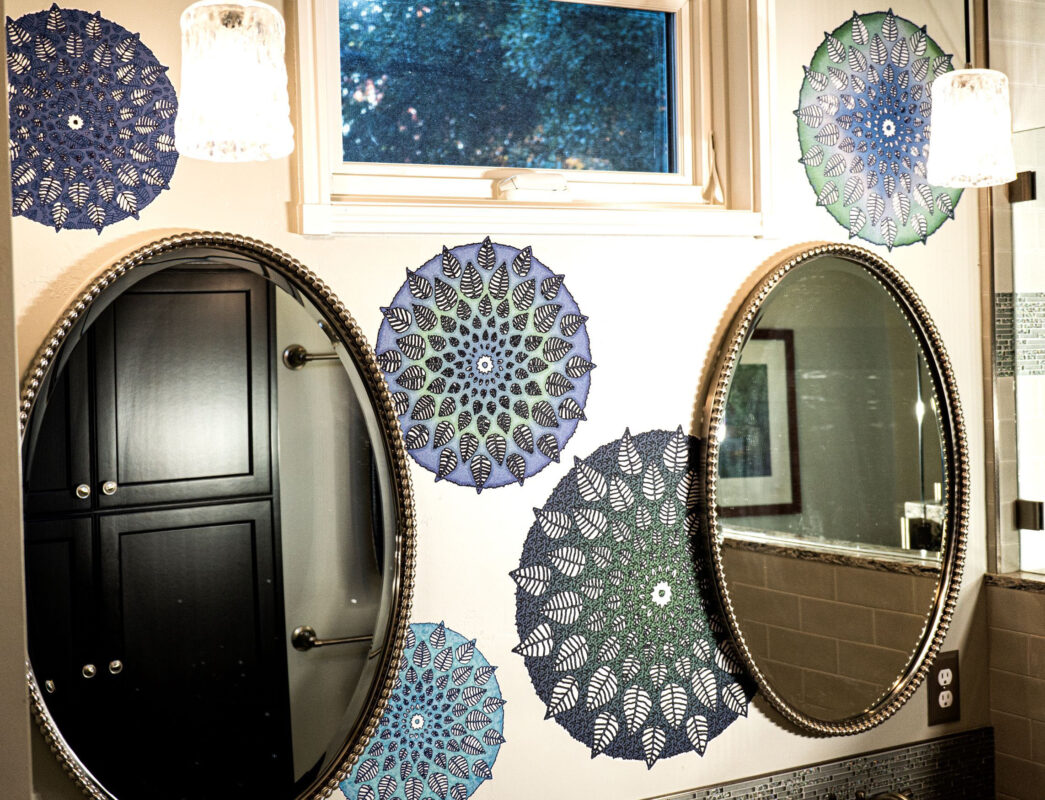 Build Your Own Wall Mural
One of the most exciting things about moving into a new space is decorating. It can be fun to have a blank slate of endless possibilities. But deciding what to do with all the empty walls you've yet to decorate can be intimidating. So if you want to skip all the painting and picture nailing, spread a decal set across your wall instead. Plus, removal is super easy and leaves behind an unblemished wall you don't have to repair.
We have a wide variety of mandala decal sets that can truly transform a boring space into a magical atmosphere. We took our bathroom from drab to dazzling by spreading this Cielo Mandala Set across the walls. This enhanced the silvery tones and circular shapes of our matching mirrors and even tied in the colors from our shower tiles.
You can go bold with an ultra-colorful set like the Belghi, Dario & Chloe or more mellow with the Ponto de Equilibrio Mandalas. Either way you'll make your guests think you spent hours coordinating your new mural wall when really, it only took you 10 minutes.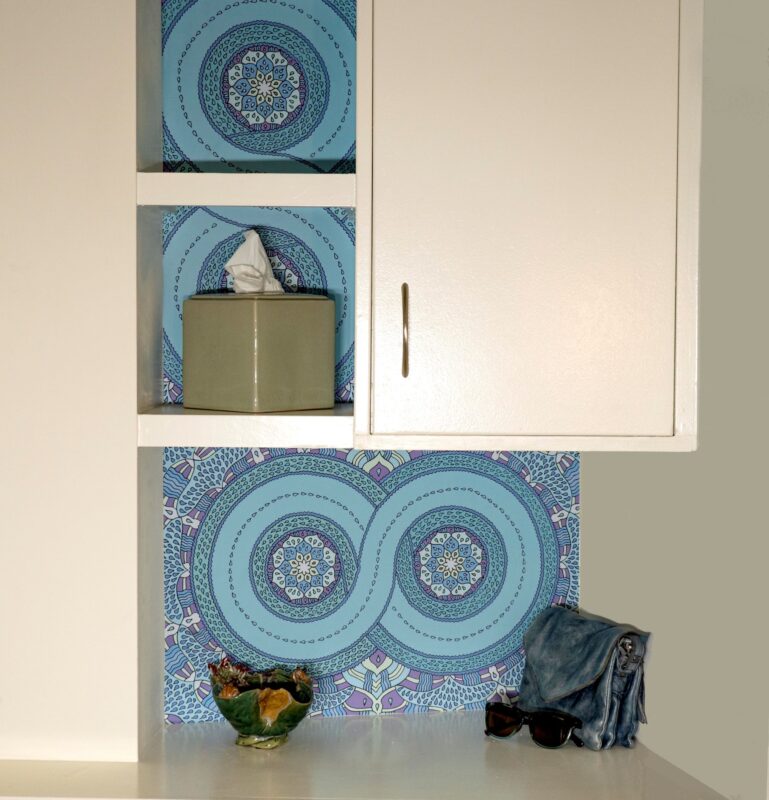 How to Apply Wall Decals That Inspire
Wall décor should exist to energize and inspire you. Because why even put art up if it isn't going to foster a more cheerful atmosphere in your home? This is what motivates us to create such bold and colorful pieces. But just because our designs are complex doesn't mean decorating with them has to be.
We want to make decorating with our pieces as easy as it is to apply them to your walls. With the room decorating tips we've provided today, we wish you the greatest luck and happiness finding the perfect wall decal for your gorgeous living space. For more decorating pointers, check out our Pinterest!