At Staccarto we always want customer feedback on our products. We are continuously tinkering with how to make creative art on wall and other products. Thus, we value and respond to any and all customer feedback to help us make products you love.
Here is feedback we have received from our customers who have purchased our products.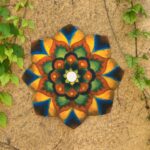 I received the Mama Color Mandala, the Rainbow Mandala, the Luiyi and Pelu Sets, and the Dario Mandala. The vibrant colors draw you in and are mesmerizing! The intricacy of the design and patterns is beautiful. They just make me happy to look at them. The colors never fade, the material is thick and easy to apply and stays perfectly in place. But the best part is the joy they bring to any room. I highly encourage these products, they do NOT disappoint!
Jeanne
Stockton, CA Nov. 2020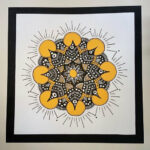 My Honey Girl mandala arrived last week from Staccarto and I love it! I am someone who really likes a lot of color in my room, but I didn't have the ability to paint in my old apartment. It was so satisfying to add some color to my wall. Honeygirl is a nice yellow, which fits well into my room's color scheme of yellows, oranges, and pinks. And when I moved, it came off so easily and left no marks. I'm just about to figure out where it can go in my new place!
One of the things I love about Staccarto is that it is a family-owned business, in which I want to support. They deliver high quality wall art, that you can tell was made with a lot of love
Taylor
Seattle, WA Dec. 2020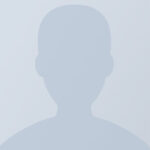 I realized that my condo needed new and inspiring wall decorations so I ordered the Luiyi & Pelu wall set. This set came with 6 different stick-on mandalas that are all so beautiful! Applyng them to my walls was so easy, no nails and hammers. They are colorful and fun and I get so many compliments on how unique they are!
Christine
Santa Monica, CA Feb. 2021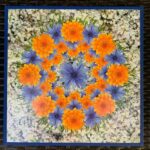 I live in a small place in Seattle so I wanted some smaller creative art on wall to decorate with. I was looking for something colorful and floral so I bought one of the California Summer Flowers mounted prints, the "Chicory and Calendula." When I got it I was so happy to see how colorful and vibrant the piece is! I love how the mixed media look of the print makes it a little more abstract and modern rather than overly girly. I'm so glad I bought this!
Emma
Seattle, WA March 2021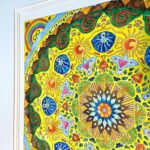 I love yellow and things that are nature inspired and playful, so of course I needed to have the Mandala Organico. I've never had an "adhesive" print before so I was afraid of messing it up when I put it on my wall but it was actually SUPER easy to apply. You just choose the general area you want to put it up, roll it out and then it's done. It goes so well with the rest of my colorful art and has the cutest little rainbow and cloud details.
Kaylee
San Diego, CA May 2021